LE TOP 10 DES INCONTOURNABLES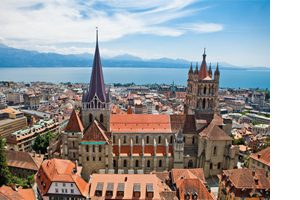 1 - LA CATHÉ
La cathédrale Notre-Dame domine la Cité depuis 1275. Vous pouvez vous y rendre pour admirer ses vitraux, mais aussi pour gravir les 224 marches qui vous conduiront à son sommet. La vue est imprenable à 360°. La nuit, un guet annonce les heures à la criée de 22 heures à 2 heures du matin. Tendez l'oreille !
1 - THE CATHEDRAL The cathedral Notre-Dame dominates the City since 1275. You can go there to admire his stained-glass windows, but also to climb 224 stairs which will lead you to his summit. The view is amazing, at 360°. At night, a lookout is announcing the hours since 22 hours to 2 o'clock in the morning. Try the ear !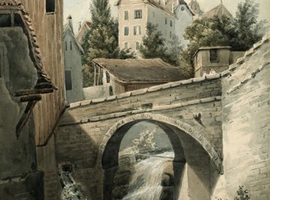 2 - UNE LOUVE À LA FENÊTRE
Le Flon et la Louve sont deux rivières qui ont été voûtées jadis car elles étaient devenues des égouts. Il existe encore un endroit en ville, le dernier, où on peut découvrir un bout de la Louve. Il faut se rendre au 3e niveau du parking de la Riponne. Là, une fenêtre offre un regard sur la rivière. Appuyez sur un bouton et vous l'illuminerez.
2 - UNE LOUVE ON THE WINDOW Le Flon and la Louve are two rivers which were bent formerly because they had become sewers. Still one place, the last one in the city that you can keep seeing la Louve. If you want to see, you must go on the third floor in the parking Riponne. Here, there is a window, you can press the button and turn on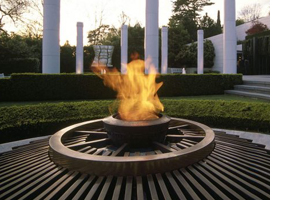 3 - POKÉMONS OLYMPIQUES
Le musée du CIO à Ouchy vaut le détour. Ses jardins publics aussi. Déjà pour y admirer des sculptures en rapport avec le sport, comme la Jeune Fille à la Balle de Botero ou Le Tacle de Nikki de Saint-Phalle. C'est aussi le meilleur spot à Lausanne pour y attraper... des Pokémon. Ils ont une forme olympique, forcément !
3 - POKEMONS OLYMPICS You must see he CIO Museum in Ouchy. Its public gardens too. Firstly to admire sculptures related to sport, like the Young Girl with the Ball by Botero or Le Tacle by Nikki de SaintPhalle. It is also the best spot in Lausanne to catch... Pokémons. They're in Olympic shape, of course.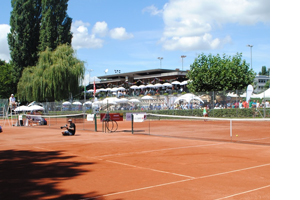 4 - UN TENNIS CHEZ WAWRINKA
Vous tapez dans la balle jaune ? Vous ne seriez pas contre un petit tennis ? Alors tant qu'à faire, venez mordre la terre battue dans le club de Stan Wawrinka (vainqueur à Roland Garros en 2014, vainqueur à l'US Open en 2016), le Stade Lausanne à Vidy. On peut y louer un court (été comme hiver) même si on n'est pas membre.
4 - TENNIS AT WAWRINKA'S Do you hit the yellow ball? Would you like to play tennis ? So while you're here, come and play at Stan Wawrinka's club (winner at Roland Garros in 2014, winner at the US Open in 2016), Stade Lausanne in Vidy. You can rent a court (summer or winter) even if you are not a member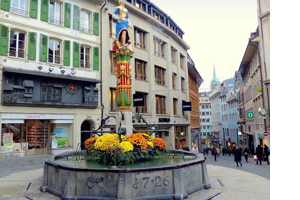 5 - LES MARIONNETTES DE LA PALUD
Le marché coloré se tient le mercredi et le samedi matin à la Palud, place sur laquelle trône la fontaine de la justice, avec sa statue qui date de 1585. Sur le mur d'en face, en-dessus de la pharmacie, on a installé une horloge qui s'anime à chaque heure pleine (de 9h à 19h), vestige de l'exposition nationale de 1964.
5 - THE PALUD'S PUPPETS The colourful market is held on We - dnesdays and Saturdays mornings in La Palud, the square where the fountain of justice sits, with its statue dating from 1585. On the opposite wall, above the pharmacy, there is a clock that comes alive every full hour (from 9am to 7pm), a remnant of the 1964 national exhibition.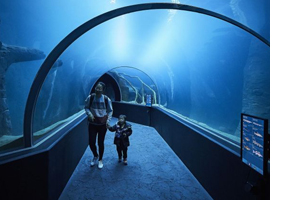 6 - NAGE AVEC LES POISSONS
Le plus grand aquarium d'eau douce d'Europe est à Lausanne (métro Croisettes). Aquatis abrite plus de 10'000 poissons. On vous recommande absolument le gigantesque bassin « Évolution » de huit mètres de haut que l'on traverse dans un tunnel transparent, comme si vous nagiez avec les poissons.
6 - SWIMS WITH FISHES The biggest freshwater aquarium in Europe is in Lausanne (metro Croisettes). AQUATIS abort more than 10'000 fishes. We absolutely recommend the gigantic « Evolution » pool, eight metres high, which we cross in a transparent tunnel, as if you were swimming with all fishes.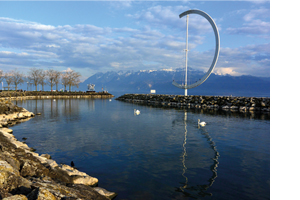 7 - FOOTING SUR LES QUAIS
Besoin d'un petit décrassage ? Plutôt que de courir au centre-ville, sautez dans le métro. Direction Ouchy-Olympique pour un footing au bord du lac, entre les massifs de fleurs et les statues. Du vieux port, au pied du château d'Ouchy, jusqu'à la tour Haldimand tout au bout du quai, comptez deux kilomètres aller et retour.
7 - JOGGING ON THE DOCKS Need a little breathing ? Instead of running downtown, jump on the subway to Ouchy-Olympique for a jogging along the lake, between flowerbeds and statues. From the old port, to the Ouchy castle, to the Haldimand tower at the very end of the quay, count two kilometres round trip.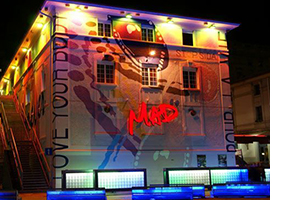 8 - UNE VIRÉE AU MAD
Vivez l'expérience unique d'une soirée dans un club classé parmi les 100 meilleures discothèques du monde, selon le magazine britannique DJ Mag : le Mad de Lausanne (à 200 m). Vous êtes nos invités (voir vos bons) ! Le Mad Club qui a commencé l'aventure en 1985 à l'endroit même où se dresse aujourd'hui… MadHouse. Vous sentez les bonnes ondes ?
8 - GOING TO MAD Live the unique experience of an evening in a club ranked among the 100 best nightclubs in the world, according to the British magazine DJ Mag: the MAD of Lausanne (200 m away). You are our guest (see your vouchers)! The MAD Club which began the adventure in 1985 at the same place where is today the MadHouse. Do you feel the good vibes ? 4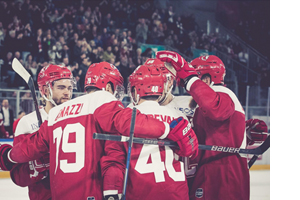 9 - EN HIVER, UNE SOIRÉE GIVRÉE
Et même glacée ! Vibrez le temps d'une soirée dans le chaudron de la patinoire de Malley. Encouragez les joueurs du Lausanne Hockey Club dans une ambiance à faire fondre la glace ! Un match dure environ deux heures. Et vous pourrez même vous faire une petite fondue en bord de patinoire si le coeur vous en dit. Infos sur www.lausannehc.ch.
9 - IN WINTER, A FROSTY EVENING And even icy! Vibrate, the time of an evening, in the Chaudron of Malley ice rink. Encourage the Lausanne Hockey Club's players in an atmosphere to melt the ice! A game is about two hours. And you can even make yourself a little fondue on the ice rink if you feel want it. Info at : www.lausannehc.ch.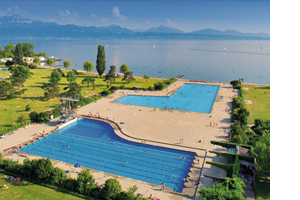 10 - EN ÉTÉ, PIQUEZ UNE TÊTE DANS LE LAC
Bellerive, c'est une piscine 2.0 qui a su conserver son charme au bord du lac. Construite en 1937, entièrement rénovée, elle compte un bassin olympique, des petits bains ludiques pour les enfants, des terrains de beach-volley et de basket, tables de ping-pong et un restaurant. Et surtout une plage lacustre surveillée de 350 mètres de long, si on n'est pas membre.
10 - IN SUMMER, LET'S JUMP IN THE LAKE Bellerive is a 2.0 pool that has kept its charm by the lake. Built in 1937, completely renovated, it has an Olympic pool, small play baths for children, beach volleyball and basketball courts, table tennis and a restaurant. And especially a supervised lake beach 350 meters long